Innovation Coast is a group of tech-focused companies and organizations working together to cultivate an innovative and creative business environment in Northwest Florida.
The mission of Innovation Coast is to grow, sustain and showcase the successful, vibrant community of technology companies and professionals in the Greater Pensacola Bay Area. Innovation Coast is a business community serving entrepreneurial garage start-ups, established leaders, and everyone in between.
Expand your network of customers, channel partners, supply chain relationships, funding partners, and team members. Or just find people ready to bounce around ideas or to share similar trials and tribulations. Join the Innovation Coast business community now to reach people and companies you need to know.
News
Featuring the Doolittle Institute who will talk about creating an innovative environment for industry, academia, and government and Travis Goins, VP of H2P, who will cover InnovationCoast next steps.
Read More »
Carlton Proctor covers Innovation Coast's efforts to put Pensacola on the tech map and how local IT leaders are working with Gulf Power Co. to support new growth.
Read the article at pnj.com
The University of West Florida (UWF) celebrated the grand opening of the state-of-the-art College of Business Education Center on Thursday, Oct. 4 with a ribbon-cutting dedication and reception.
Read More »
Featured Jobs

Software Engineer Superstar
We are seeking a highly experienced Java Software Engineer to be part of the IHMC DARPA Robotics Challenge team. The ideal candidate must be passionate about software engineering, enjoy writing massive amounts of readable, well-tested software, and have experience using software engineering productivity enhancement tools and techniques. Applicants must have good communication skills, and thrive in both a team and individual environment.
Read More »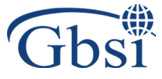 JAVA Software Developer
Performs high level systems analysis, design, integration, programming and implementation of high priority systems/applications in a web-centric environment (e.g., NKO, ILE, Sea Warrior, Sea Warrior Afloat, etc.). All tasks are performed under a full lifecycle methodology and will participate in requirements definition, project management, applications design, development, documentation, testing, and deployment activities. Performs analysis of requirements and programs using web technology products (e.g., J2EE, JAVA, HTML, XML, or other tools directly related to development of products for the integration into a Portal). Prepares and reviews documents and designs/prepares technical reports, presentations, and briefs as required.
Read More »
Featured Sites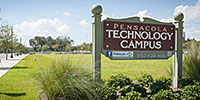 Pensacola Technology Park
A technology park is being developed on a 9.2-acre tract of public land located between the Pensacola Civic Center and the Aragon neighborhood. Initially proposed by the Pensacola Bay Area Chamber of Commerce, the completed park is expected to host between 300,000-500,000 square feet of office space. The chamber hopes this will attract IT firms and generate as many as 1,000 high-paying jobs for the area.
The land for the park — bordered by Chase Street/W. D. Childers Plaza, 9th Avenue, Florida Blanca Street and a service road abutting the Aragon neighborhood — is owned by the City of Pensacola (1.7 acres) and Escambia County (7.5 acres) and has been used for overflow parking during Civic Center events.
Contact the Greater Pensacola Chamber for more info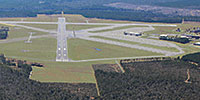 Whiting Aviation Park
Industrial property with 6,000 feet of runway is the perfect location for an aviation related business. Read More »
Featured Buildings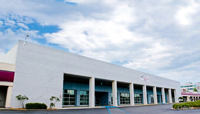 40,000 SF Call Center Building
40,000 SF secure office/warehouse/distribution space available. The building is located in-line within the Town & Country Plaza. This 40,000 is the lower floor (on-grade) of a former department store. Upper floor was built-out in 2000 as a call center and has been operational since then. The restrooms need some repair work. The space is secure, and has a large open area, with office areas to the north and south that are ready for use. The downstairs 40,000 SF can be built out as additional call center space giving a total of 80,000 contiguous SF available. Read More »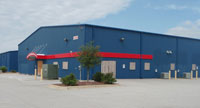 Industrial Blvd
110,000 SF industrial building located in Santa Rosa County. Easy access to east and west interstate. Read More »
Innovation Coast COMPANIES & Partners